Broccoli and potato cheese mashed are a great way to start with nutrients and serve vegetables extra to your family. For me these parmesan broccoli mashed potatoes with cheese are the best I've ever had in my entire life. This family friendly side side is so easy to prepare and ready in just 20 minutes.
Wait Wait!
No mistake to prepare; this keto broccoli mash doesn't taste like potatoes. You know what mashed broccoli tastes like?
It's Broccoli, broccoli, broccoli!! If you adore the taste of broccoli, keep reading.
This recipe is a fun craziest mouthwatering dish you can see on this texture, you will like and I'm sure definitely love that recipe after eat and taste that.
I just big crush on the veggies, specially broccoli. Occasionally when there is no food at home, I make that Broccoli Mashed Potato recipe. You can season it any way you want, but these are great with garlic powder, salt and pepper. If you like, you can definitely add some cheddar cheese. It's up to you. You can serve them for a casual weekend dinner or alongside your favorite holiday meal. The best part is who are vegetarian, this recipe is best for them.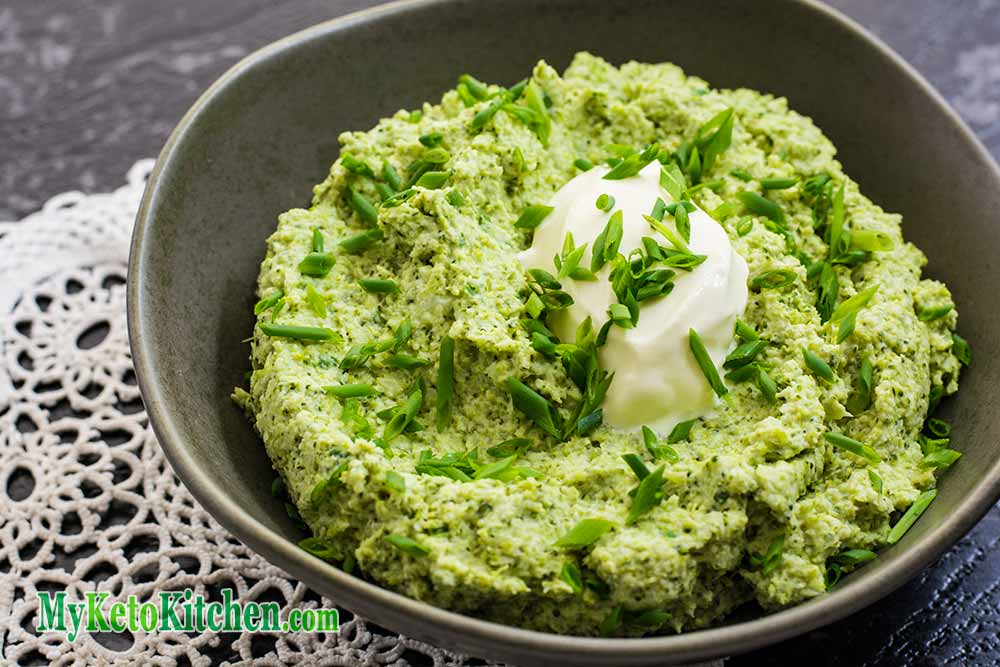 Broccoli Potatoes Mashed Keto
Image Credit: Myketokitchen
So let's start how to make Easy Broccoli and Potato Mashed Recipe –
Prep Time: 5 minutes
Cook Time:
5 minutes
Total Time: 10 minutes
Course: Dinner, Lunch, Side Dish
Cuisine: American
Special Diet: Dairy-Free, Gluten-Free, Paleo, Vegetarian
Servings: 8 servings
Calories: 225 kcal
Author : Priyanka Dutta
Broccoli Mash Recipe
(Image: Pinterest)

Ingredients
16 oz broccoli florets, fresh or frozen / 4 cups broccoli florets
1 cup water
1 tsp lemon juice
1 tsp ghee / 2 ½ tbsp butter (melted)
½ tsp ginger paste
1 or 2 garlic cloves
salt as per taste
¼ tsp pepper to taste
½ cup grated Mahon Menorca Semi-Cured Cheese, or grated Gouda Cheese, divided in half
2 tbsp heavy cream
1/2 tbsp. crushed coriander
1 tsp. crushed red pepper flakes
4 sweet potatoes, peeled and diced
In short, Instruction:
1. In a medium sauce pan or a pot, take some water in it and all the cutting pieces of broccoli, potatoes put in the saucepan and heat these for 5 minutes over medium flame. Then turn off the flame and remove the water.
2. Take a bowl, pour all the broccoli and potatoes; add lemon juice, salt, pepper, ginger paste, garlic cloves, ghee or butter, red pepper flakes, heavy cream, cheese. All these mix together and paste using by your hand or use a food processor or mixer, or use potato masher. After mixing the ingredients take it out in a bowl and add chopped or crushed coriander, mix it well and serve.
However you try them, TRY THEM. You won't regret it.
Broccoli Puree with Potatoes
Image Credit: Once Upon a Chef
If you miss mashed potatoes and love broccoli, try this easy Sprinkle
mashed keto Broccoli Potato recipe
! Not only is it low in carbs and calories, it's dairy-free, making it a paleo-friendly side dish. Also this recipe is best for snack and dinner with any kind of dish. It takes a few minutes to get ready and enjoy your veggies with your friends.
Broccoli Mash with potato
is a healthy, nutritious dish that makes it easy and tasty for anytime you want!
Veg Manchurian
Green Beans Casserole
Chicken and Broccoli Casserole
Broccoli with mashed potato recipe step by step:
This lovely green colored, rich, creamy and so tasty vegetable mash is so easy and comfortable and mouthwatering tasty food dish that you can't wait to taste and eat!
Let's see in details,
how to make broccoli and potato mashed
–
➧ At 1st you have wash the broccoli and potatoes in the fresh water.
➧ Cut the broccoli florets in to small pieces and cut the potatoes in some pieces.
➧ With some water in a saucepan and preheat oven to 350 degree F or 180 degree C and wait for boil. Add broccoli pieces and potato pieces in it, boil on medium – high flame for 8 to 10 minutes.
➧ Drain the broccoli and potatoes in a strainer. Collect some few paper towels together and toss the broccoli on a paper towel. Cover the broccoli in paper towel and press on the strainer to drain off any excess water.
➧ Now take a mixer grander or a food processor. All the ingredients – the boiled broccoli pieces, boiled potatoes, garlic cloves, ginger paste, melted butter or ghee, black pepper, salt, grated cheese, crushed red pepper flakes put in the mixer and pasted well.
➧ Until the paste will smooth, creamy and green paste forms.
➧ Take a bowl or a plate, keep the batter or broccoli paste in it, add heavy cream spread over the paste, and sprinkle some chopped or crushed coriander over the broccoli green keto paste.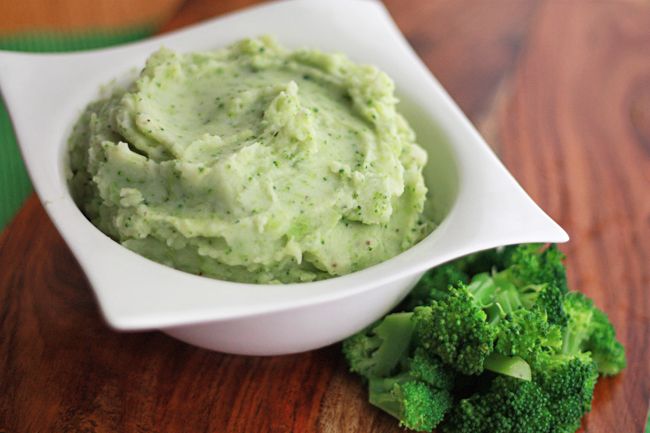 Broccoli and potatoes mash
Image Credit: Onelovelylife
Note:
⤇ Net Carbs: 6g per serving
⤇ For this recipe I use red pepper flakes, coriander. You can add any seasoning whatever you like.
⤇ This is vegan and keto recipe so if you want you can easily add any kind of veggies in it.
⤇ If you want You can use fried bacon spread over the dish.
⤇ If you start in hot water, they'll cook unevenly, with the outside falling apart before the inside is finished cooking.
⤇ If potatoes are still too thick and if you want add some milk, you can, now gradually stir in some warm milk to make potatoes until you reach your desired creaminess.
Loaded Mashed Potato Bacon Recipe
(Image: countrysidecravings)
You can make this recipe differently whatever you like, add any other Vegetables or add more to it. You can make this recipe broccoli and mashed potato casserole by adding these ingredients… take a look!
You must like this recipe:
Broccoli Cauliflower Mashed Potatoes Recipe :

Cauliflower Mashed Potatoes
(Image: fifteenspatulas)
In that recipe all the process of broccoli mashed potatoes are same. Only add cauliflower in this recipe. Here 1st you have wash the broccoli, potatoes and cauliflower in the fresh water. Cut the broccoli and cauliflower in small pieces and potatoes; boil these for 8 to 10 minutes. Rests of the process are same as keto mashed potato and broccoli recipe. Want to know this recipe in details check out here. Hurry up!! Make this recipe now!
Chicken And Broccoli Mashed Potato Pie :
Baked Potato Chicken and Broccoli
(Image: barefeetinthekitchen)
This loaded baked potato chicken and broccoli casserole is an absolutely irresistible dinner. The fresh green broccoli, mashed potatoes, chicken pieces with some seasoning, cheese make that recipe
chicken and broccoli pie with mashed potato topping
is just mouthwatering delicious for anytime lunch or dinner. You can see here, how to make
chicken and broccoli bake with mashed potato topping
.
This garlicky mashed broccoli potato is just amazing that you can't wait to taste and with catch a bite with your eyes closed. I promise, it's worth the leap of faith. This is a wow moment! It is Vegan, Paleo, Full-30 approved, low-carb and glue-free. With the garlic flavor make that recipe delicious and with cheddar cheese the dish will creamy richness, you will get a nice volume from this simple broccoli mashed potato recipe.
Suggested Recipe :
I like to add a touch of crushed red pepper flake for a hint of heat but if you like it (or if you like spicy things, you can make it a notch!) I love it with grilled steak or roasted chicken! Leftovers are delicious topped with an egg fried over easy.
Have you tried broccoli mash? Why are you waiting for? Do it now! Now you know the recipe and how to make. So make it at your home! And send me the capture of that dish, I want to know your comment, how you feel after taste the dish.
Here I put a video clip which I get from YouTube (
click here
) to know more about that recipe and how to make that, it will be easy for you.
If you like that recipe keep it share with all so that they will know the recipe and this quick recipe can be made to save time.
I'M ALWAYS PINNING! SAVE NOW!
👉31 Side dishes for Dosa
👉Valentine's day Desserts Recipes
👉Egg Devil Recipe