Valentine's Day is right around the corner and Valentine's Day is about love and showing your significant other how much they mean to you. I think it is quite natural that many couples of partners will surprise their sweetheart with flowers and chocolate. But why not something new?
Here I've some new drink recipes ideas to celebrate the season with several different rounds ups, starting with this collection of 22 Valentine's Day Cocktails!
These 22 cocktails are the perfect combination of boozy and sweet. They're guaranteed to set the tone for an extra romantic Valentine's Day! Here are some awesome Valentine's Day drink ideas to enjoy! Some of these do include alcohol but you can always make them non-alcoholic.
22. Raspberry Rhubarb Margarita
Raspberry Rhubarb Margaritas are a little bit spicy, a little bit sweet, and the perfect cocktail for any occasion.
Recipe here.
21. Cherry Chocolate Bourbon Soda
Impress your love with this Cherry Chocolate Bourbon Soda!
Recipe here.
20. Passionate Kisses Cocktail
Make dinner with your valentine and with perfect passionate kisses drink.
Recipe here.
19. Peach Nectar Cocktails
The beauty of the color that is great and drinks are so nice to taste, perfect drinks for Valentine's Day.
Recipe here.
18. Sour Raspberry Tom Collins
A Collins is basically a sour cocktail made using a base spirit (most usual gin), lemon juice, sugar and carbonated. And here add some fresh raspberry, garnish with a lemon twist or raspberries if desired.
Recipe here.
17. Raspberry Pink Champagne Floats
Raspberry Pink Champagne Floats, made with pink champagne and raspberry sorbet is the perfect Valentine's treat!
s
Recipe here.
16. Kiss Quick Cocktail
Perfect Valentine's Day Cocktail! Filled with fresh raspberry sauce, pineapple, cranberry juice, vodka and top up with soda water is just create wow factor and as say kiss Quick cocktail!
Recipe here.
Trending Recipe:


15. Strawberry Champagne Floats
To celebrate your love to your sweetheart and spent reflecting on the good and the bad of your relation, making solutions, and come back to express your the love between each other, enjoy the occasion at night with this Strawberry Champagne Floats!

Recipe here.
14. Sugared Cranberry Mimosas
This Sugared Cranberry Mimosas made with Cranberry juice, ginger pie, sugar, champagne, lime, and fresh cranberries. Easy holiday cocktail recipe perfect for Thanksgiving, Christmas, and Valentine's Day!
Recipe here.
13. Strawberry Champagne Sangria
This simple Sparkling Strawberry Champagne Sangria is only a few ingredients and the perfect cocktail to serve at all your summer parties and celebrate the romantic Valentin's Day!
Recipe here.
12. Queen's Cocktail
The Queen's cocktail is so beautiful and this festive gin-based cocktail best for party drinks or celebrate any occasion like Valentine's Day.
Recipe here.
11. Cranberry Pomegranate Bellini with Lime
Cranberry Pomegranate Bellini comes together when infused simple syrup is mixed with champagne (or seltzer) & a squeeze of lime for a yummy sparkling drink.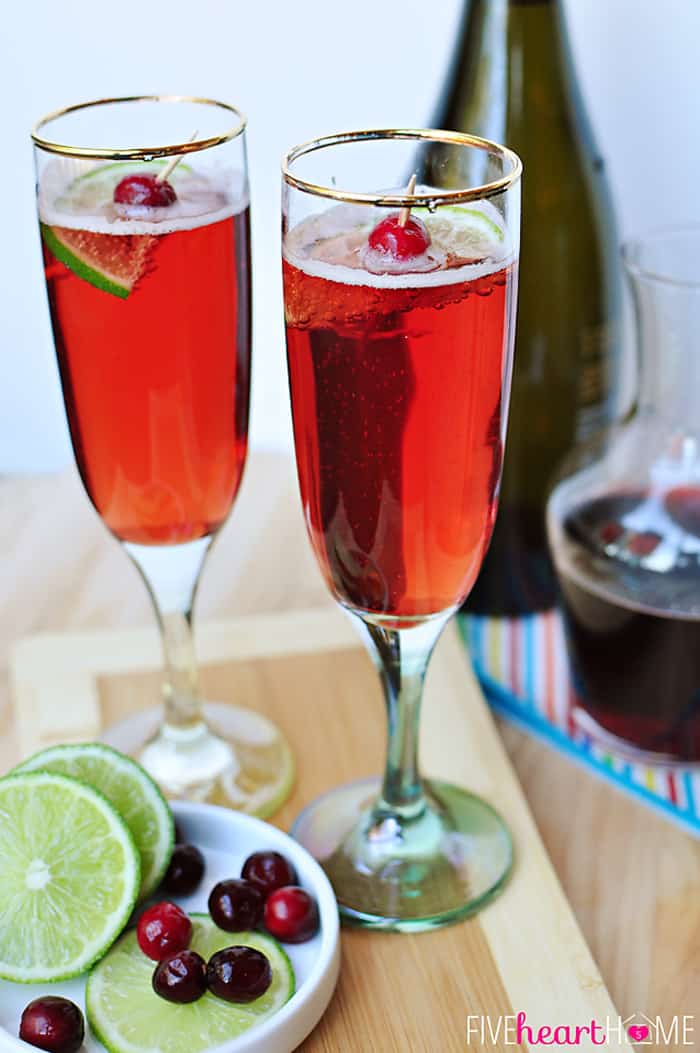 Recipe here.
10. Cherry Vodka Cocktail
This Cherry Vodka Cocktail is the perfect drink combo for a red Valentine's Day.
Recipe
here
.
9. Rose Lemon Spritzers
A refreshing vodka spritzer is a perfect cocktail to celebrate valentine's day party.
Recipe here.
8. Cupid's Arrow Valentine's Day Cocktail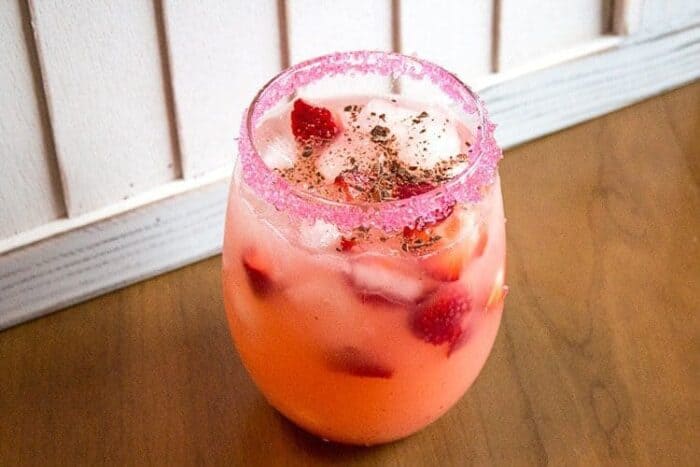 Recipe here.
7. Strawberries Margaritas
With fresh strawberries, lime juice, simple syrup, tequila create great tasty flavor and nice texture, color make that drinks recipe awesome, try it now at home!
Recipe here.
6. Blood Orange Gin and Tonic
This Blood Orange Gin and Tonic is a refreshing and seasonal spin to enjoy the romantic date with your partner!
Recipe here.
Related Recipes: 27 Instant Pot Recipes


5. Love Martini
Love Martini is just awesome and makes love to your partner with this red drinks for Valentine's Day.
Recipe here.
4. Strawberry Moscow Mules
Made with vodka and ginger beer, its super easy and our go-to drink this Valentine's Day.
Recipe here.
3. Love Potion Cocktail
This Love Potion Cocktail is a perfect celebration for Valentine's Day with your partner.
Recipe here.
2. Cranberry Pomegranate Cosmopolitan Cocktail
This cranberry pomegranate cosmopolitan cocktail is refreshing, easy and perfect for a party.
Recipe here.
1. Cranberry Margarita
Cranberry margarita is a beautiful colored refreshing cocktail with a perfect balance of sweet and tart and perfect for celebrating Valentine's Day and also for a holiday drink, or any party or simply for a relaxing weekend.
Recipe here.
If you like this tutorial keep it share to all so that they will be a plan with these kinds of romantic drinks to celebrate Valentine's Day! And if you want more healthy recipes, don't forget to subscribe to my blog so that all upcoming recipes will get so easily! That's it for today, get in touch with us for upcoming recipes.
Want to check this recipe later?
SAVE
this pin
below to your favorite board on
Pinterest
!
Related recipes must watch!