The Keto Loaded Cauliflower Recipe is so healthy and delicious. Packed with cauliflower, butter, cheese, chives, and bacon with seasoning, just ready within 20 minutes. The ultimate low carb and keto-friendly side comfort food for your diet.
Looking for healthy easy to make and keto friendly vegetable cheese recipe?
Here I share the ultimate comfort food vegetable recipe that make your day full and best for your diet too! – Keto Loaded Cauliflower Recipe.
This bake cauliflower loaded cheese recipe loves your whole family. It's a dish that you will serve your family with any kind of side dish and who don't want to eat vegetables, this recipe is the best for them.
For vegetarian they will eat this recipe without adding bacon. For diet, it is the best recipe ever and comfort food too!
Loaded cauliflower casserole is also a yummy and delicious way if you have guests coming over suddenly. You can prepare this recipe in advance. We know all the veggies are so important for our health. They have lots of nutrients to protect our health. As the same way, cauliflower also has nutrients and with other ingredients adding, the recipe will goes out a nice flavor.
To get any info go to here.
So no more talk, let's go to see the details of this recipe and how to make as well…….
Which ingredients you need to make this loaded keto cauliflower?
This loaded cauliflower bake keto recipe is the ultimate in comfort food ever. SO creamy cheesy loaded with cauliflower that make you feel crazy after eating the dish. To make this recipe you need these ingredients in your kitchen and these ingredients are on your budget, not so expensive…
Cauliflower
Garlic Powder
Black Pepper
Bacon
Sour Cream
Greek Yogurt (optional)
Cheese
Mayonnaise (optional)
Chives
Loaded Bake Easy Cauliflower Recipe
(Image: dearcrissy)
How To Make Healthy Loaded Cauliflower Casserole Recipe?
Well! This is the main and curious question all about. If you ask me, then the loaded cauliflower casserole is already healthy and delicious too! The cauliflower is a delicious way to make a low carb comfort food side dish that's packed with veggies.
With cauliflower you make this low carb and comfort food recipe that packed with veggies.
I like to make this keto loaded cauliflower casserole recipe using the florets of cauliflower. If you want to use all of the cauliflower parts, that's not a big problem. It's totally upto you. The entire preparation time is just around 10 minutes and just only 20 minutes get this healthy cauliflower casserole recipe which is best for busy weeknights.
– You just steam or cooked the cauliflower or you can roast or baked it.
– Take a large bowl, add sour cream, cream cheese, mayonnaise, cheddar cheese with chives, garlic powder, salt, pepper – all these mix together by using food processor or blender.
– After roast or bake the cauliflower add into the creamy sauce and mix well.
– Place them on baking sheet, spread over remaining cheese, bacon and chives, again bake it for few minutes.
– Now ready to serve, enjoy! 😊
Here I mention you can steam or cooked cauliflower, but you think that STEAMING, but how?
Don't worry at all, I'll give a solution…
Here I share a video to make this recipe so easy way, which I get from Low Carb Spark.


How Do you Steam Vegetables?
Many recipes you see, tell you that boil or blanch the vegetables, but for my suggestion or prefer do not boil the veggies, steam it. So that vegetables holds in the nutrients and bright the colors of my veggies are when they are done steaming.
To steam veggies, take a bowl or pot, add 1 or 2 inch of water and add your strainer to fit on top of your cooking pot.
Bring to boil the water, add veggies in the strainer, when starting the bubbles in the boil water, cover with a cooking lid tight enough to hold in the steam. Make sure the water is not touching the bottom of your strainer.
Steam the veggies over the high-medium heat for about 8-9 minutes. Then you see the steaming veggies are soft, tender and looks bright in color.
Get the full details, if you know more about this recipe, check out here.
Looking for more keto friendly casserole dishes? Check out a few of my favorites below!
Loaded Cauliflower Recipe with Bacon
(Image: sparklesofyum)

Here some tips for this cheesy bake recipe:
* You can use fresh yogurt instead of mayonnaise and sour cream, or even vegan mayo, that is depends up to you.
* Even you can add to mix half of the bacon in with the cauliflower and for garnishing spread the remaining crispy bacon over the top before bake again.
Why is Cauliflower Good for You?
There is no doubt that cauliflower is good for you. Cauliflower, the green veggie that is packed with vitamins and antioxidants.
It contains almost every vitamin and nutrient that you need always in your diet. It is also high in fiber and low in calories, that is best for who looking for low cabe and keto friendly recipe.
More Delicious Dishes That You'll Love
Instant pot Chicken Recipes for Dinner
13 Healthy Custard Recipes
23+ Baby Broccoli Recipes
Broccoli Cheddar Soup
Healthy Spinach Orzo
Healthy Salad Recipes
Traditional Mexican Taco Recipe
Want To Make this Bake Loaded Cauliflower recipe Ahead of Time?
You can make this recipe ahead of time. If you want to make ahead, roast the cauliflower 1 day in advance, and store it in the freeze in an airtight container. Also prepare the cream cheese sauce or mixture 1 day in advance and stored in the refrigerator.
When you want to cook the recipe, remove it from the freeze before it bake. Warm the cauliflower in the baking dish in a 350-degree F oven until hot. When the cream cheese mixture come to room temperature, prepare the recipe as directed and place it for bake at 425 degree F.
To know more check out
here
.
Can you Freeze a Cauliflower Casserole?
Yes! You can freeze a cauliflower casserole.
To Freeze. Place leftover casserole in an airtight storage container in the freezer for up to 3 days and maximum for 3 months. When you ready the cook, going to thaw process before reheating.
So let's get started the recipe preparation….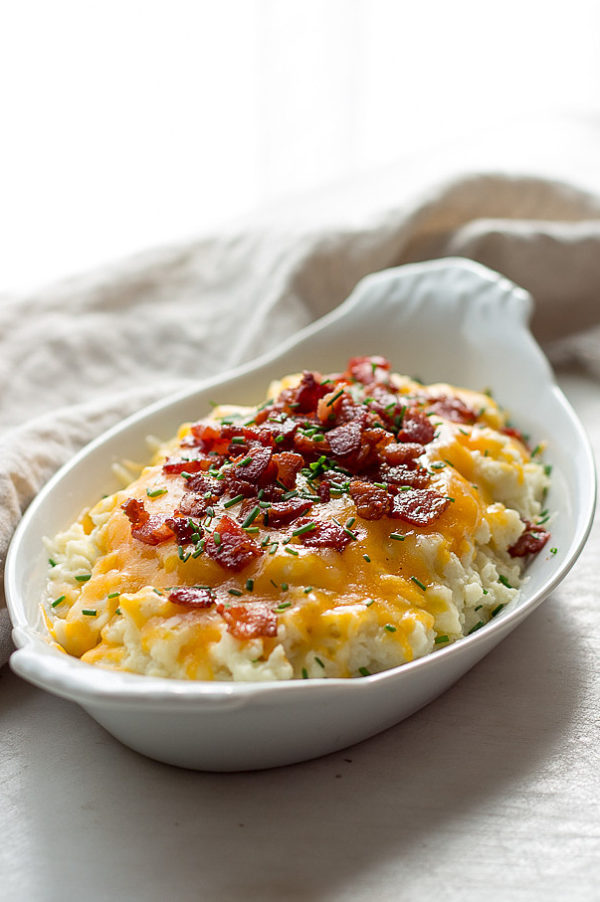 Healthy Cauliflower Casserole Recipe
(Image: lowcarbmaven)
Keto Loaded Cauliflower Recipe
This loaded cauliflower, made with butter, sour cream, chives, cheddar cheese and bacon, is the ultimate in low carb comfort food!
Course: Side Dish
Cuisine: American

Prep Time: 10 minutes

Cook Time: 10 minutes
Total Time: 20 minutes
Servings: 4 people
Calories: 298 kcal
Author: Priyanka Dutta
Ingredients
1 pound cauliflower or a large head cauliflower, cut into florets
4 ounces or 1/2 cup sour cream
1 cup grated cheddar cheese
1/2 cup mayonnaise
4 slices bacon cooked and fried crispy
6 tablespoons chopped fresh chives
3 tablespoons butter
1/4 teaspoon garlic powder
salt and pepper to taste
Ingredients of Loaded Cauliflower
(Image: wellplated)

Instructions
Loaded Cauliflower Recipe, when we hear the name, we 1st think The Cauliflower Casserole…
This Casserole of loaded cauliflower, that has lots of the flavors as your favorite as loaded baked potato casserole without all of the carbs. Packed with fresh cauliflower florets, sharp grated cheddar cheese, crispy bacon and green onions or chives, this Healthy Loaded Cauliflower Casserole Recipe is the perfect keto low-carb side dish.
This Keto Loaded Cauliflower Casserole Recipe you can make 2 ways –
⤇ Steamed or Cooked by Water
⤇ To Bake by Microwave
Making Low Carb Loaded Cauliflower Recipe (Steamed or Cooked by water)
1. First wash the cauliflower under the fresh water, then cut the florets of the cauliflower into small pieces.
2. Now take them all into a bowl for boil. Add 2 tablespoons of water and cover with cling film or plastic wrap. Cook them for 5-8 minutes over the medium flame in the over, and check after 8 minutes for not to overcooked.
[Tips: You can transfer them to a microwave safe bowl, cooked them for 5 to 8 minutes in a microwave, depending on your microwave, until completely cooked and tender.]
3. After cooked well remove them and drain the excess water. Wait and uncovered for a minutes or two. This is for microwave or stove top or oven.
If you want cook the cauliflower by steaming process, see below –
1. Cut the florets and wash into the water, take a bowl add 2 cup of water in it and bring for boil.
2. When the water turns in to bubbles, take a strainer container and put the cauliflower in it, place it over the boiling water. You can cover the strainer using a lid or skip it, depends upto you.
3. After few minutes like 8-9 minutes check the cauliflowers are cooked, tender and soft or not.
4. After check, remove it and you may need to squeeze a little water out of the cauliflower after cooking.
After doing any of these process,
↣ Add the cauliflower to a food processor or a blender or mixer and blend well until it's fluffy. Add the butter, garlic powder, and sour cream and process until it turns into the consistency of as like mashes potatoes.
↣ Remove the mashed and well
mixed gravy cauliflower
to a bowl and add chopped fresh chives. Add cheddar cheese and mix well by your hand or use blender. For me, I use few mayonnaise, if you don't like skip it. And at last for taste add salt and pepper. All are combine very well.
↣ For garnishing I use chopped chives and crispy bacon with remaining cheese spread over the mashed loaded cauliflower recipe. Put back into the microwave to melt the cheese, under the broiler for a few minutes. Not Ready to serve hot!
Low Carb Bake Loaded Cauliflower Recipe
(Image: wellplated)
Keto Loaded Cauliflower Casserole Recipe ( To Bake by Microwave)
1. To make the best cheesy loaded cauliflower casserole, first preheat the oven to 450 degrees F (232 degrees C).
2. Now time for cook the cauliflower, you can cook by upper these process. When done, remove from heat and set aside.
3. Take a large bowl, add mayonnaise, sour cream, spices, crispy bacon, cheddar cheese and chopped chives or green onion with the cooked cauliflower and combine, mix well. Then transfer this cauliflower mixture to the buttered casserole dish. You can adding some cheese sprinkle over it with crispy bacon and chopped chives for garnishing.
4. Bake it for 15-20 minutes. After 20 minutes remove it from the oven, let sit for 5 minutes before serving.
[Tips: If you don't ready your crispy bacon, to cook the bacon, Spray a baking sheet with non-stick spray and place your bacon flat on the pan. Bake it for 15-20 minutes or until crisp, keep in mind that before removing the bacon take a paper towel on lined plate.]
Want to know more check out
here
.
Cheesy Loaded Cauliflower Casserole
(Image: wholesomeyum)
In another side, make this recipe in this way too –
1. In a large bowl, toss the cauliflower florets with melted butter and seasoning with sea salt and black pepper as per taste.
2. Transfer the cauliflower to a small 1.5 quart (1.4 L) casserole dish or baking sheet in a single layer. (If you have too much cauliflower, place them on a single layer or a single row.)
3. Bake or roast the cauliflower in the oven at 425 degrees F for 30 minutes, until the florets are tender and crispy both.
4. At the same time, take the same bowl, add sour cream and heavy cream, until smooth, mayonnaise whisk all together, until smooth. Now add minced garlic or garlic powder, half of the cheddar cheese, half of the bacon bits, and half of the green onions or chopped chives. Add sea salt and black pepper as per require.
[Tips: Don't use more salt. When the cheese melts later by baking, the recipe will get more salty, if you add extra salt in it.]
5. Remove it when cauliflower is done baking. Now time for add those roasted cauliflower in the mixture sauce, mix well.
6. Spread some remaining cheese, bacon and chives over the casserole, again bake it for about 5-10 minutes, until the cheese melts. Serve hot! 😋
Recipe Notes
You can add fresh yogurt in this recipe.
If you make ahead of time, keep it in refrigerator.
Bacon is totally optional, who are vegetarian, they can skip to add bacon in this healthy loaded cauliflower recipe.
To get more information click
here
.
Nutritional Information:
Calories: 298kcal | Carbohydrates: 7.4g | Protein: 11.6g | Fat: 24.6g | Saturated Fat: 15.4g | Polyunsaturated Fat: 0.7g | Monounsaturated Fat: 4g | Cholesterol: 75mg | Sodium: 285mg | Potassium: 378mg | Fiber: 3g | Sugar: 3.85g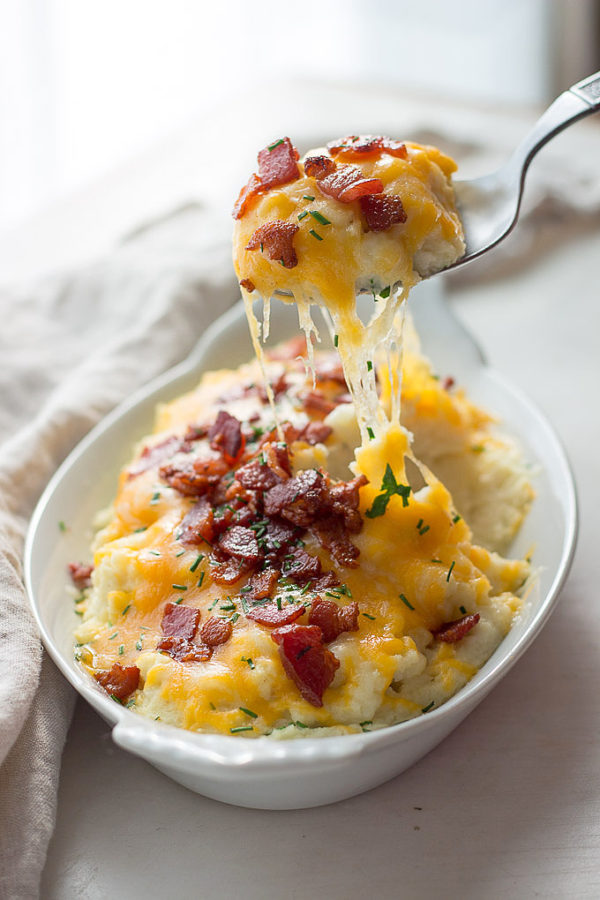 Loaded Cauliflower Casserole Healthy Recipe
(Image: lowcarbmaven)
Now I think you'll get the recipe how to make and all other things… So try this recipe at home and serve to your family and other.
If you really love the recipe share with all, so that they will make this recipe as well. To get more recipes like this, subscribe my blog and turn on the notification so that all upcoming recipes you will get first when I published.
Did you like this recipe and inspiring? SAVE this pin below to your favorite board on Pinterest!