The Mexican Veg Tacos Recipes are the best and quick easy dish that serve a side dish for meal like breakfast, lunch and dinner. Just ready within 15 - 20 minutes in your kitchen and these recipes are so delicious and healthy too!
Looking for healthy and quick dish for your busy day?
Here I cover some delicious amazing easy
Mexican veg Tacos Recipes
that you love most!
Specially I just love tacos. Like I am a fan of taco recipes. Ans basically Maxican people create different kind of taco recipes that is
found everywhere and get so much popularity.
Are you getting late to go your office in the morning?
I'm sure many of people are so late to finish the food and going out for office. So are you really board and angry for this late? NO NO NO.... wait!
Don't you worry! I'm here to give the solution. Here you see some different kind of vegetable taco recipe which are easy to make at home, just within 20 minutes. The best part is these recipes good for vegetaian.
Mexican Food are not so hard to prepare at home, you will see the preparation too!
But before start the recipes, I forgot to tell you that -
What is tacos?
Thinking???
Taco is a traditional Mexican dish topped with a small hand sized corn or wheat tortilla and make this tortillas whet ever size you like, but the minimum size is 75mm or 3 inch diameter thin circle. The tortilla is then folded around the filling (any kind of) and serve, eaten by hand.
In Mexico, tacos or tortilla that is filled with meat or veggies or most anything and topped with salsa or lime juice.
Tacos is a traditional frugal Mexican food.
In the United States, tacos are a hard corn shell that is full of meat or veggies and topped with sliced cheese or cream.
And not being Takeout anymore.
Time to cook your own Mexican food at home!
Want Salad Recipes!
Honey Fruits Salad Recipes
Greek Pasta Salad
Cucumber Caprese Salad
Creamy Carrot Slaw
Avocado Tomato Onion Salad
Let's see 21 amazingly delicious and healthy Mexican Veg Tacos Recipes.
21. Vegan chickpea tacos
Vegan Chickpea Tacos with Avocado - this delicious recipe is so easy and quick to make, and the best part is you don't even need a food processor or blender for mix something. Just ready within 15 minutes.
Not only are these tacos delicious, but they are also healthy and easy to make. It contains lots of plant protein, mainly from chickpeas. And the tortillas or tacos made with chickpea flour which is high in protein. Try now!
Vegan Chickpea Tacos (Image: elavegan)
here
.
20. Pineapple Tacos
Vegan Walnut Chorizo Tacos with mayo and Pineapple salsa!The amazing delicious tangy recipe that you just eat one bite and you love these beauties and the flavor.
There are lots of other elements or ingredients to this recipe – pineapple salsa, slaw, avocado mash, and chipotle mayo, some walnuts create the recipe amazing with tacos. This is my favorite!
Pineapple Tacos (Image: pinchofyum)
Check out the preparation
here
.
19. Sheet Pan Veggies Tacos
Sheet pan tacos are the easiest way to get an excited to eat. It's so spicy, delicious vegetarian/vegan dinner that you want to eat and share with all!
The vegetarian taco filling you can use in this recipe is made up of mushrooms, onions, and potatoes. If you don't like beans, skip it. There are no beans in this vegetarian taco recipe, add any veggies what you want to and enjoy the
vegan mexican tacos recipe
veg meal.
Sheet Pan Veggies Tacos (Image: theliveinkitchen)
Check out the preparation
here
.
18. Chipotle-Lime Cauliflower Tacos
Roasted Cauliflower Tacos with Chili-Lime Slaw are chipotle spicy, and packed with delicious flavor. These vegan tacos are freezer friendly and done in about 30 minutes! This
mexican veggie tacos recipe
is vegan and easily gluten free that you take this in anytime as a side dish for snacks or dinner or lunch too!
Chipotle-Lime Cauliflower Tacos (Image: vanillaandbean)
Check out the preparation
here
.
17. Black Bean Potato Tacos
Whether if you are vegetarian, gluten free, wanting to eat something healthy, clean eating or
you need a change in your breakfast or lunch routine
… these Black Bean and Sweet Potato Tacos
only your answer may be!!
These Black Bean & Sweet Potato Tacos are totally gluten free and vegetarian, good for who want only veggie recipes. Its make a great breakfast, lunch or dinner
vegan mexican breakfast tacos
recipe.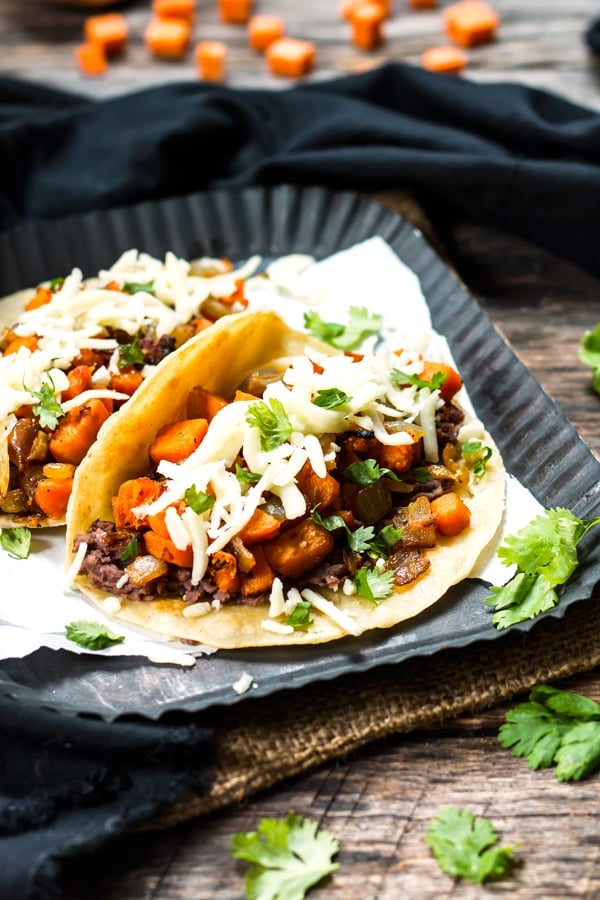 Black Bean Potato Tacos (Image: evolvingtable)
Check out the preparation
here
.
Suggested recipe:
Green Bean Casserole
16. Mushroom Tacos
Healthy and flavorful
vegan tacos recipe
made with tofu and mushroom and other simple ingredients in a sweet and spicy Asian sauce, turned a nice dinner staple!
These tacos are not only vegan and healthy, these are perfect for amy time meal for lunch and dinner! To make you full and crazy while you take in your mouth. Delicious right? Want to try now!
Mushroom Tacos (Image: wellplated)
Check out the preparation
here
.
15. Jackfruit Taco
They are so easy to make, kid-friendly, and they will be on your table in 30 minutes! If you need to change your mood then this jack fruit tacos are perfect for you!
So mouthwatering tasty dish that this jack fruit is the perfect replacement for traditional pork tacos. It will be the best for dinner or snack and also rock the party!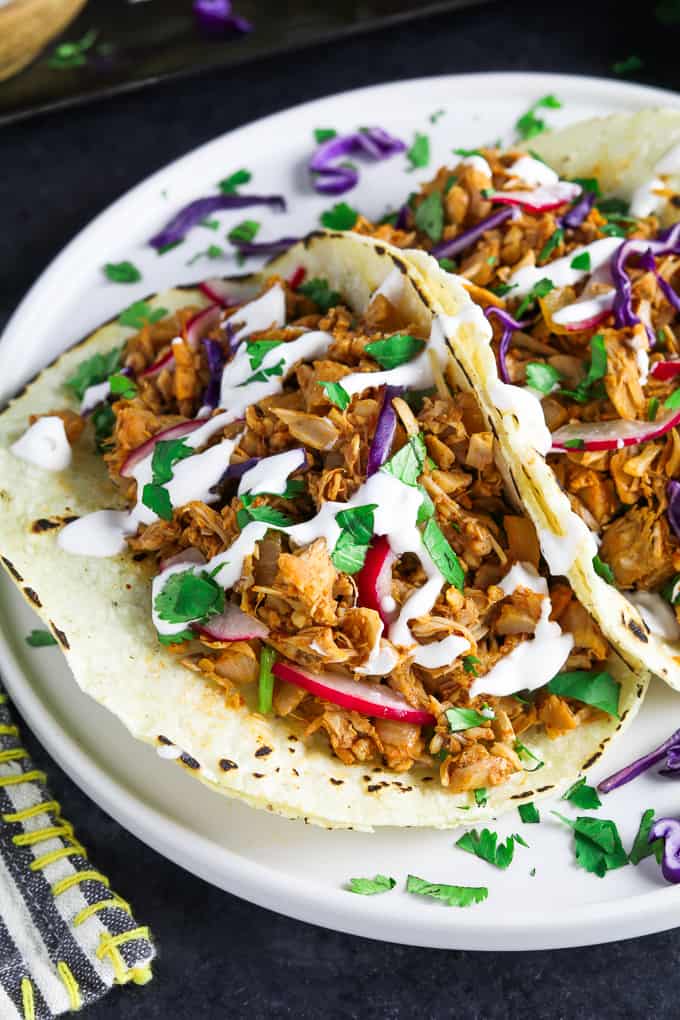 Jackfruits Tacos (Image: veganhuggs)
Check out the preparation
here
.
14. Cilantro Lime Black Bean Quinoa Tacos
These vegan quinoa and black bean tacos are such a great twist on traditional tacos.
Your family and friends will love the idea of a new

meal

for lunch and dinner and also you will love it this mexican veggies taco so easily and quickly.
To make this easy
mexican healthy vegetable tacos
recipe you need some simple ingredients like quinoa which is the main character of this recipe and black beans, cilantro, lime juice and some other simple ingredients that will be found in your kitchen. And you can use avocado sauce that you can make to go over the top that the color and taste of the dish just burst at the end of your dish.
Cilantro Lime Black Bean Quinoa Tacos (Image: makeitdairyfree)
Check out the preparation
here
.
13. Vegan Broccoli Tacos
Vegan Broccoli Tacos is just only need 8 ingredients and 30 minutes. The tasty broccoli taco recipe will be ready on your table just within 30 minutes. So delicious and totally vegan, this mexican tacos for vegetarian are perfect for them!
If you search for something meat tacos, I suggest this broccoli veggies tacos are the best to replace any meat tacos. And this healthy recipes proves that you don't need any meat at all.
Vegan Broccoli Tacos (Image: makeitdairyfree)
Check out the preparation
here
.
12. Vegan Tofu Tacos
These healthy Vegan Tofu Tacos are spicy and flavorful. These are easy to make and perfect for a quick,
budget-friendly meal
.
These tofu tacos made with tofu, tomatoes, olives, any
salsa
. But this is one of those recipes where you can add any kind of filling what you want or you liking.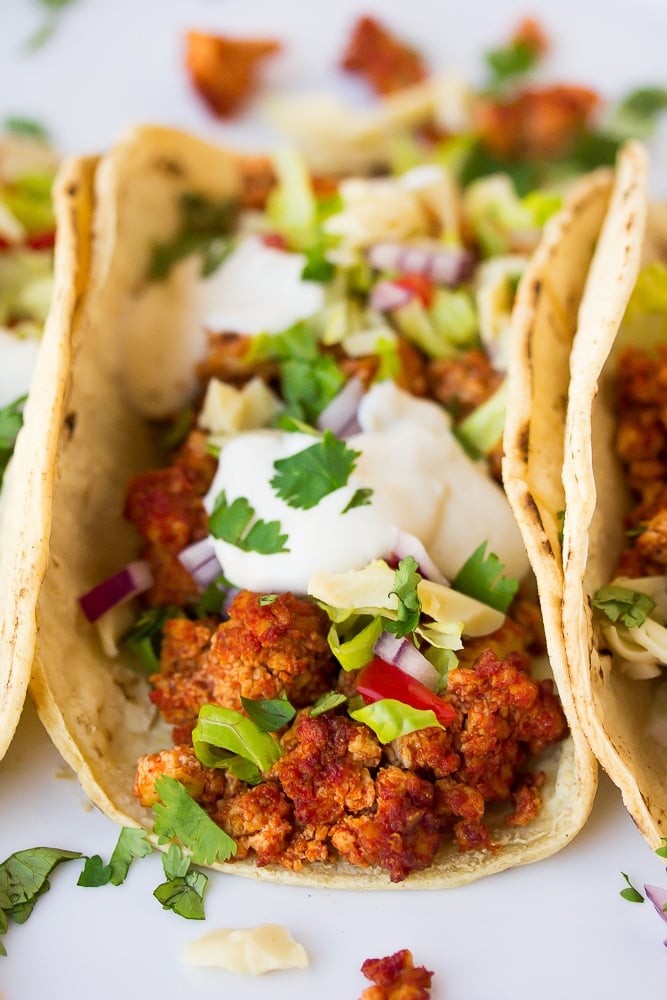 Vegan Tofu Tacos (Image: noracooks)
Check out the preparation
here
.
11. Butternut Squash Tacos
These Vegan Butternut Squash Tacos are so simple and tasty recipe, spread with Chipotle Cilantro Sauce which are so healthy mix that create a great texture of this vegetarian mexican tacos recipe.
Loaded with roasted butternut squash, crunchy cabbage & lettuce and a spicy chipotle cilantro sauce. These tacos have so many layers of flavor, just mouth-watering dish ever for refresh your mood and you are going to want to make this recipe again and again.
Butternut Squash Tacos (Image: thissavoryvegan)
Check out the preparation
here
.
10. Grilled Zucchini Tacos
These veg tacos are a wonderful combination of grilled zucchini, chipotle crema, cotija cheese, avocado, pickled red onions, and sprinkled with cilantro that go-on a new flavor in the food world.
The best part is if you want you can make these at home and store them in the refrigerator for 3-4 weeks. These are really so good.
Grilled Zucchini Tacos (Image: leangreennutritionfiend)
Check out the preparation
here
.
9. Potatoes Taco
Packed with beans, potatoes, crunchy lettuce and the sauce make a nice flavor and delicious taste of this potato tacos recipe.
For busy day this tacos are best for save your time and full you. No more time to make this recipe in the kitchen, just within 15 minutes it will ready. Also leftover dish you can easily store in the freeze for next lunch or dinner plan.
Potato Tacos (Image: thissavoryvegan)
Check out the preparation
here
.
8. Tempeh Tacos With Avocado Kiwi Salsa
If you're looking for some healthy tacos, This tempeh tacos with avocado kiwi salsa is best.
Tempeh Tacos With Avocado Kiwi Salsa (Image: liveeatlearn)
Check out the preparation
here
.
7. Carrot Tofu Tacos
Carrot Tofu Tacos Recipe is the colorful and flavorful different kind of recipe that
brings a different dimension to the meal. Try this new creation at home!
Carrot Tofu Tacos (Image: holycowvegan)
Check out the preparation
here
.
6. Roasted Tomato Breakfast Tacos
Searching some healthy easy
breakfast
taco recipe? This Roasted Toamto Tacos are the ultimate solution for you. So quick and easy to make at home.
But With roasted tomatoes you can add any other ingredients whatever you like, and serve this with any kind of chutney that make the recipe delicious.
Roasted Tomatoes Tacos (Image: cookingclassy)
Check out the preparation
here
.
5. Traditional Mexican Vegetable Tacos Recipe
The Traditional Mexican Tacos Recipe is just best ever amazing mouthwatering recipe that made with black beans, corns and other simple ingredients.
Just ready within 20 minutes at home and serve hot with your families and others.
Check out the preparation
here
.
4. Delicata Squash Tacos With Black Beans
These flavorful fall maxican vegetarian tacos made with delicata squash and black beans, which are the main character of this recipe. And in that case, you can use any topping and any ingredients whatever you want with these. I'm sure, you'll be coming back for more and more!
Delicata Squash Tacos With Black Beans (Image: rachelcooks)
Check out the preparation
here
.
3. Instant Pot Vegetarian Lentil Tacos
These Instant Pot Lentil Tacos are quick and easy to make!
Instant Pot Lentil Tacos (Image: peasandcrayons)
Check out this recipe
here
.
2. Paneer Tacos
Panner tacos is a amazing Indian Mexican combination filling with panner, corn and some other ingredients that after a bite you will say 'wow'!
Paneer Tacos (Image: aromaticessence)
Check out the preparation
here
.
1. Spicy Mango, Black Bean and Avocado Tacos Recipe
These sweet and spicy mango tacos are a great vegetarian weeknight dinner, try now!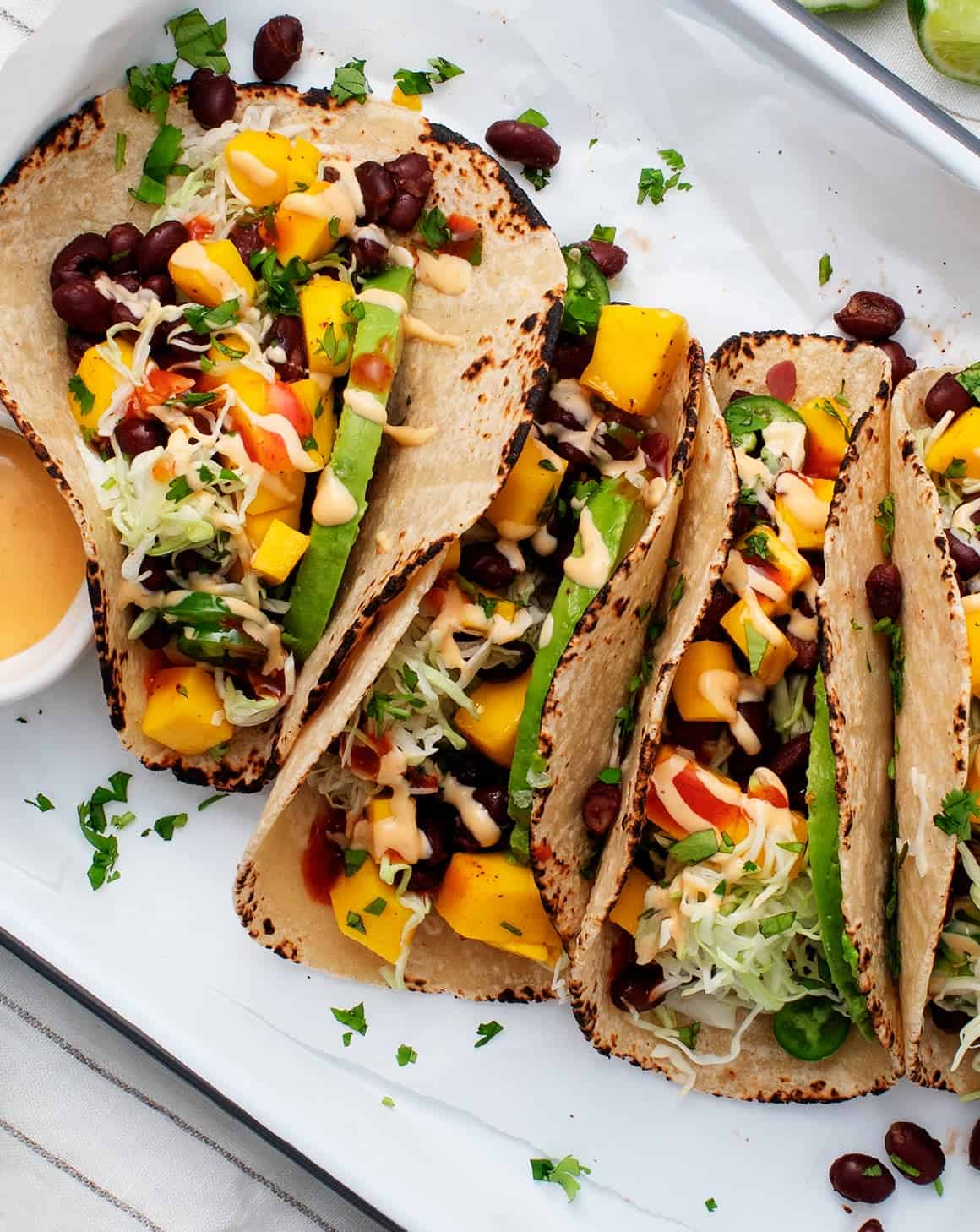 Mango avocado beans tacos (Image: loveandlemons)
Check out this recipe
here
.
Now I hope you already know how to make this veg tacos recipes. Now time for choose recipes and make these at your home and serve hot!
Do you really like this tutorial? Share with all and don't forget to subscribe my site so that all upcoming recipes you will get first.
Related Recipes you must Try!
Panca

ke recipes
Coffee Recipes
Healthy Easy Overnight Oat Recipes
Banana Smoothie
Delicious French Toast Recipe